• Free Transportation • Hitch Hiking in Thailand • How to Get a Free Ride • Moterbike Passenger • OCD Behavior • Thailand Tourist • tropical weather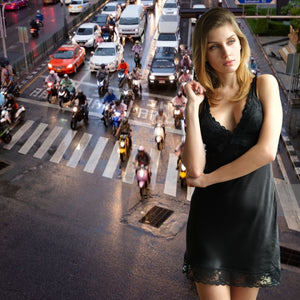 Picture  this:

 

you see a lady standing at the intersection of a very busy major street in a big city.

 

When the traffic all stops for the red light that will last a couple of minutes, you see her walking up to various people on motor cycles and talking to them briefly.

 

She doesn't appear to be selling anything since she's not holding anything but a credit card and a bottle of water.

 

She might be asking directions since she is pointing and gesturing that way.

 

Or she might even be asking for money since she seem to be gesturing 'please.'

 

It's not obvious what she is doing.

 

But then you see her hop on back of one motorbike and drive off.

 

Maybe she was asking for a ride or for a date?

No she wasn't asking for a date or for sex for anything like that.  She just want a lift from point A to point B, with no strings attached.
---
• OCD Behavior • tropical weather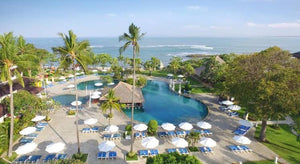 In 2014 I was still in Bali.   In my earlier Bali days, I was traveling back and forth between Ubud and Kuta every few days.  In these early days I a had a room rented at a bungalow called "Happy" in Ubud.  And in the middle of the night in would find someone on a motorbike to drive me to Kuta where I would hang out here and there for at least 24 hours, before finding another motorbike to take me back. After a while I had had enough of Ubud, and I discontinued staying there.  Instead, I started spending...
---
• bikini lover • KLCC Suria • OCD Behavior • shopping • tropical weather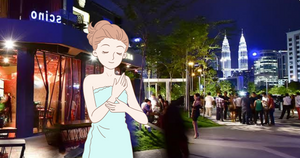 It's 8:30pm.  I am lying by the swimming pool at the Maya Hotel, a trendy luxury five star hotel in KLCC, in Kuala Lumpur, Malaysia.  I hear "Hello Miss Polly it's 8:30", announced by a friendly staff member of the Health Club, as she is passing by my lounge chair.  That was my requested wake up call time, 8:30pm.  Oh well.  I want to keep sleeping.  The sound of the water is so relaxing.  I have only been asleep only 6 hours, since 2pm in the afternoon.  But the health club and swimming pool closes soon and so does the KLCC shopping...